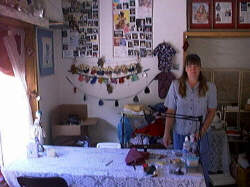 This summer I'm back down town CLICK_IT_OUT
Visual Tour of the Doll Shop
Summer 2000
Click on the thumbnails to see a larger picture.
N. Hwy. 149
Lake City, CO
81235
(970)944-2256


EMAIL Lori

Outside the shop

The first Look

at the inside of Lori's new shop.

You can select the green ware to make a

Doll-In-A-Day

or an advanced doll

The nativity scene for Christmas
Email:
Dolls By Lori
Lori will be open daily except Sunday
If you're in town stop by and say "hey, I love dolls too"
This page is designed and maintained by
Future Wave Computer Solutions